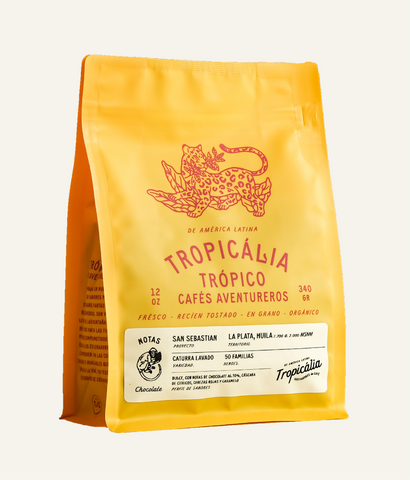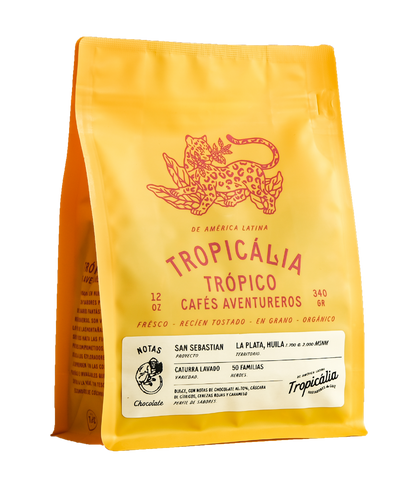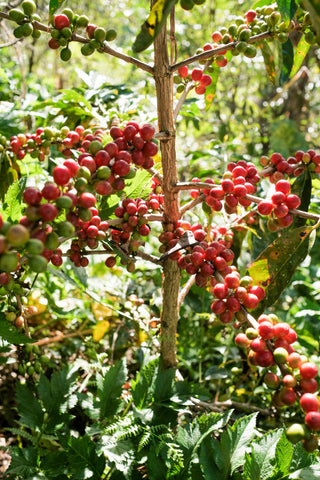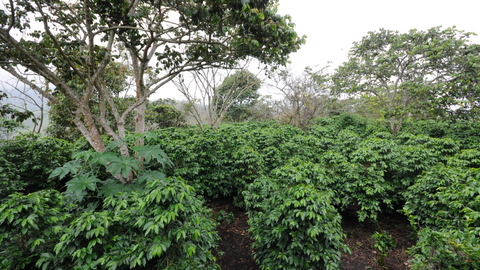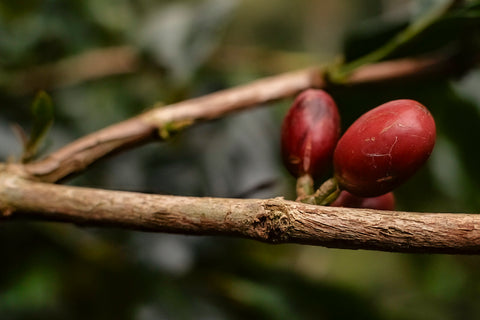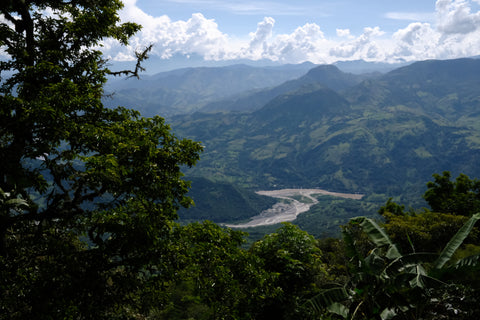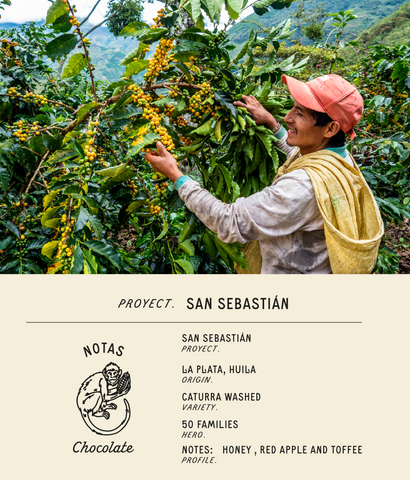 San Sebastian - La palta, Huila
Know more
PROCESS:  This delicious Caturra variety has a traditional post-harvest process that consists of a two-part fermentation process. Cherries harvested are left overnight underwater and the next day are pulped and fermented for 18 hours. Finally, the resulting parchment coffee is sun dried in parabolic patios for about 25 days The result it's a coffee that will make you fall in love.
NOTES:   HONEY , RED APPLE AND TOFFEE 
Story
The municipality of La Plata was an important and strategic settlement in the colonial times thanks to its easy access to important cities such as Popayan and Pasto. The small city was established in the valley of La Plata River and was originally called San Sebastian de La Plata due to a conquitador called Sebastian de Belalcazar. This town is known for being the folkloric capital of Huila, as well as for the silver found in the region. The main economic activities revolve around agriculture with coffee, plantain, rice, and cacao being some of the main crops. It is a region with good biodiversity located in the western side part of the central mountain range of Colombia and traversed by the Aguacatal, La Plata and Paez rivers. Other aspects that affect the agroclimatic conditions and help with its biodiversity are its proximity to the the Huila Nevado (snow-caped mountain) and the Purace National Natural Park. It has a clay loam soil ideal for coffee, with temperatures ranging from 17ºC to 28ºC in the areas coffee is found.
Between 2007 and 2008 Caravela started purchasing coffee in this municipality which is the fourth in population of Huila. We have dedicated to work alongside coffee farmers with the PECA educators and the quality analysts. Since starting those relationships in the early 2000's, Caravela continues working closely with most of these farmers. "This coffee is a great example of a balanced, round and sweet Colombian cup, with notes of dark chocolate, citrus peel, red cherries and caramel."
Coffee growers are small to medium scale with the farms ranging from 2 to 5 hectares,
between elevation of 1,400 masl to 2,000 masl. They come from generations of coffee
growers from La Plata with a few from other municipalities located nearby such as Inzá or Pedregal of Cauca. They tend to work as a family. Nowadays, we see more women involved as well as younger generations. Back in the days, they used to have traditional varieties such as Caturra and Typica but with the passage of time, some coffee growers have planted leaf rust resistant varieties and some going towards exotics varieties such as Gesha and Pink Bourbon. In this area, coffee is their main economic activity and main source of employment. Some of the farms have other smaller crops such as sugar cane, avocado and plantain. In this area, there is an influence of people from La Plata and nearby municipalities as well as people from the nearby department of Cauca who also sell their coffee at La Plata and usually come from indigenous communities.

Coffee growers from la Plata are resilient people, who always keep pushing forward to
achieve better quality and with a joyful spirit. Due to the great potential and the strong
committment and passion of coffee growers in the region, Caravela implemented virtual educational spaces and workshops. Additionally, it is famous for their traditional festivities of San Pedro which are a must for them to attend.